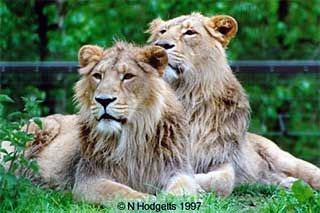 Description
The Asiatic Lion (Panthera leo persica) is a subspecies of lion.
The last remnant of the Asiatic Lion, which in historical times ranged from Greece to India through Persia, lives in the Gir Forest of northwestern India. About 300 lions live in a 1412 km² (about 550 square miles) sanctuary in the state of Gujarat. In 1907 there were only 13 lions left in the Gir, when the Maharaj of Junagadh gave complete protection to them.
Unlike the tiger which prefers dense forests with adequate cover, the lion inhabits the scrub-type deciduous forests. compared to its african counterpart, the Indian lion has a scantier mane. The lion seldom comes into contact with the tiger which also inhabits this forest. Infact this is the only jungle in the world where the big two cats inhabit the same area.