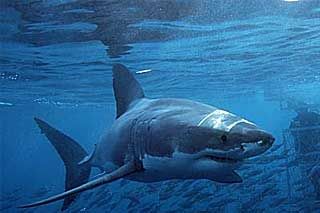 Description
The Great White Shark (Carcharodon carcharias), also known as White Pointer, White Shark or Amaletz, is an exceptionally large lamniform shark found in coastal surface waters in all major oceans. Reaching lengths of about 6 meters (about 21 feet) and weights of about 1,800 kilograms (4,000 pounds), the Great White is the world's largest predatory fish. They are the only known surviving species of their genus, Carcharodon.
Great Whites have excellent eyesight and can see in colour, and have highly-developed behaviors which are only now being researched. Their reputation as ferocious predators is well-earned, yet they are not (as once was believed) indiscriminate "eating machines". Great White sharks primarily eat fishes and pinnipeds such as seals and sea lions. Great Whites are apex predators; the only animals known to attack them are other Great Whites, sperm whales, humans, and orcas.
The Convention on International Trade in Endangered Species (Cites) has put the great white shark on its 'Appendix II' list of endangered species. The shark is targeted by fishermen for its jaws, teeth, and fins, and as a game fish.